A whole new world will open for you on the Westeinderplassen. Aalsmeer offers countless opportunities for activities on and around the water. From relaxing boat trips and relaxed paddleboarding to chilling out on the Surf Island, watching the water sports fanatics. From 60 marinas and several boat rental locations, there is plenty of room to fully enjoy this agricultural island area. So that you don't drown in all possibilities, we have listed 10 popular water activities for you.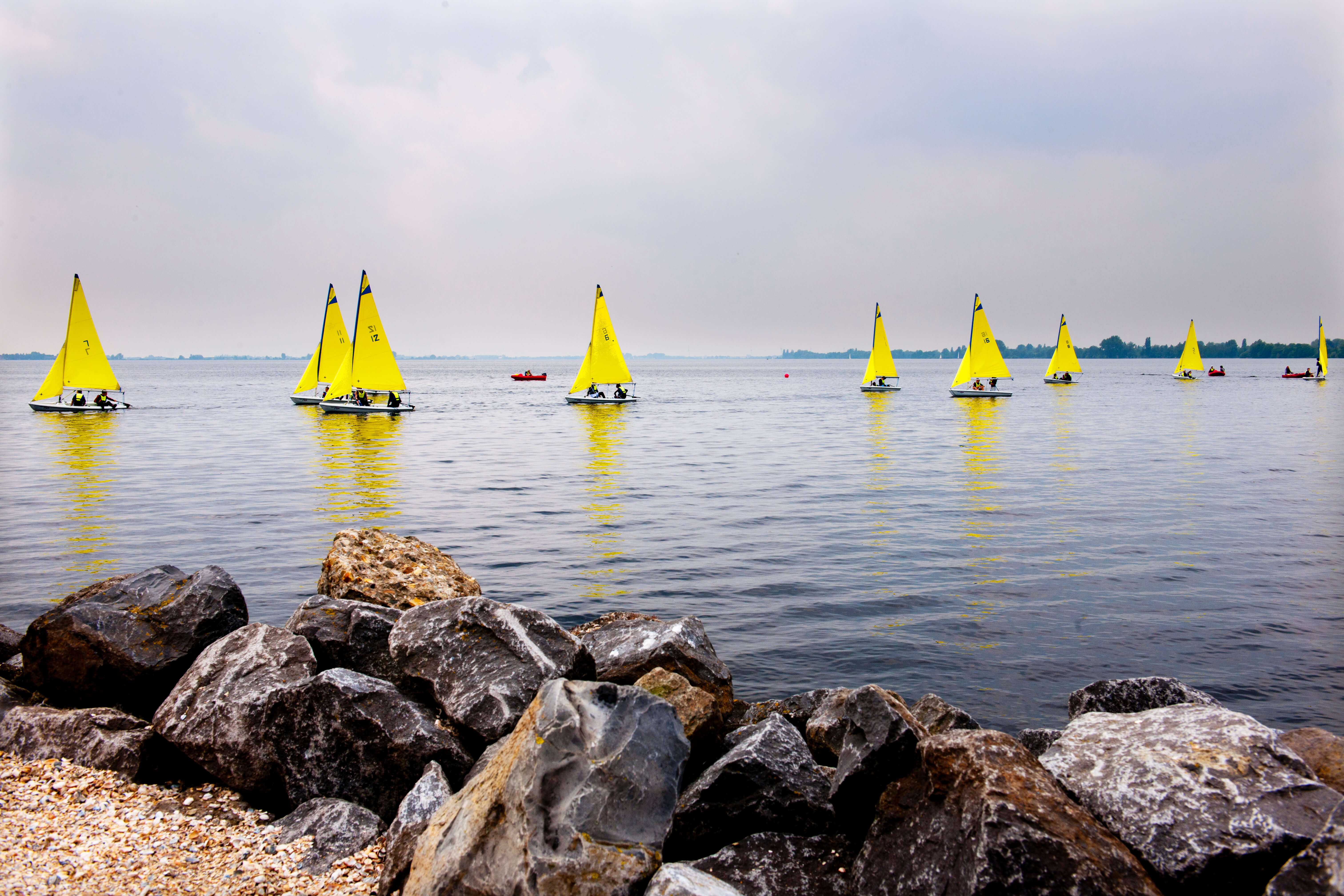 1. Stand Up Paddling at Supventure
SUP stands for Stand Up Paddling, and this has quickly become a popular and fully-fledged water sport in Aalsmeer. At Supventure Aalsmeer you can learn this new water sport. You can try it out here first without having to buy expensive equipment. During the season you can paddleboard every Thursday evening on Get Started Night at the Surf Island in Aalsmeer.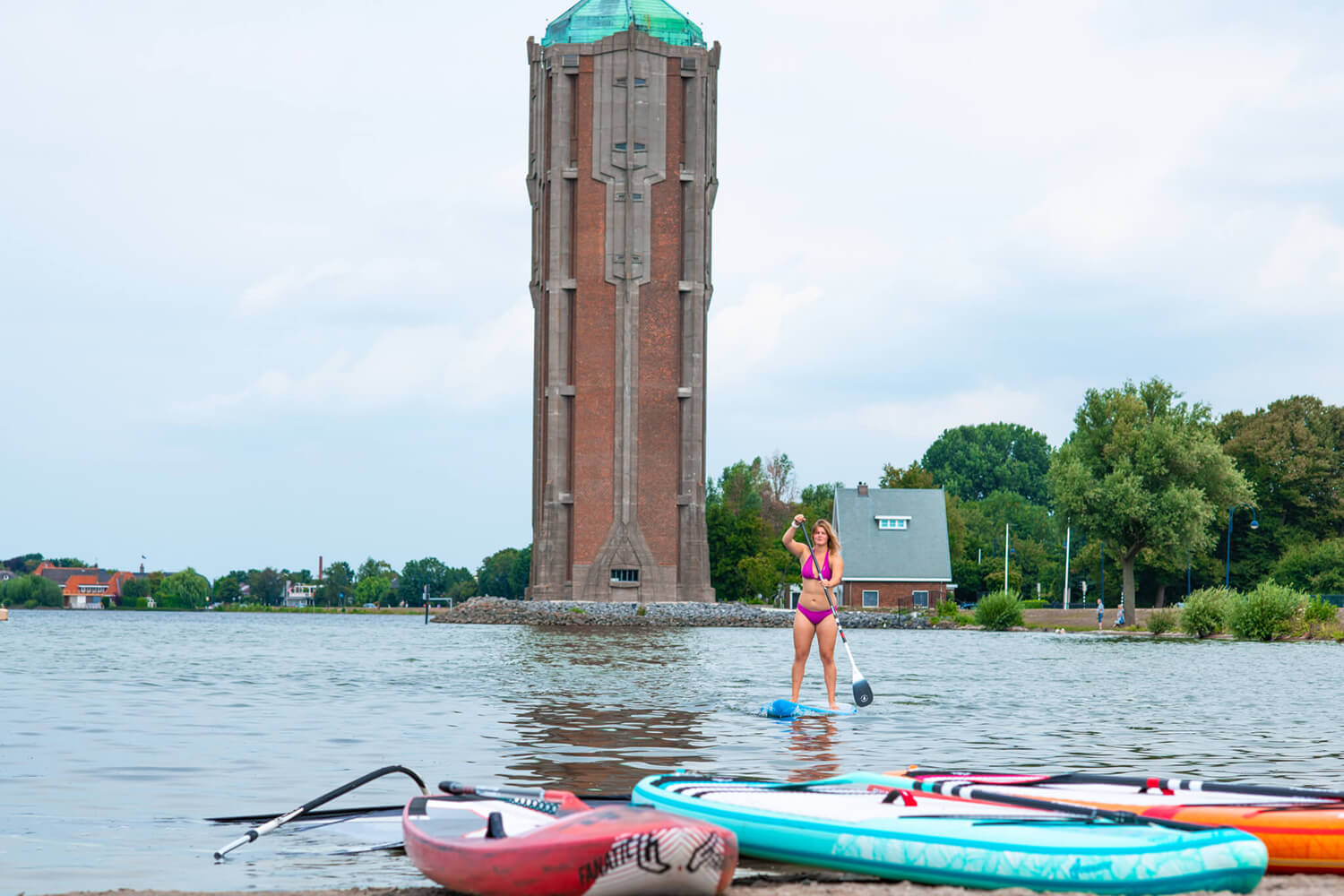 2. Sailing on the Westeinderplassen at Sailing School Aalsmeer
You will discover Sailing School Aalsmeer in a beautiful location on the Westeinderplassen. A safe and reliable sailing school offering a wide range of lessons, boat rentals, parties and group activities. Sailing school Aalsmeer is a professional CWO, NPJ, VDWS sailing, surfing, stand up paddleboarding and catamaran school, with well-trained and enthusiastic instructors. A sailing school where having fun is also very important.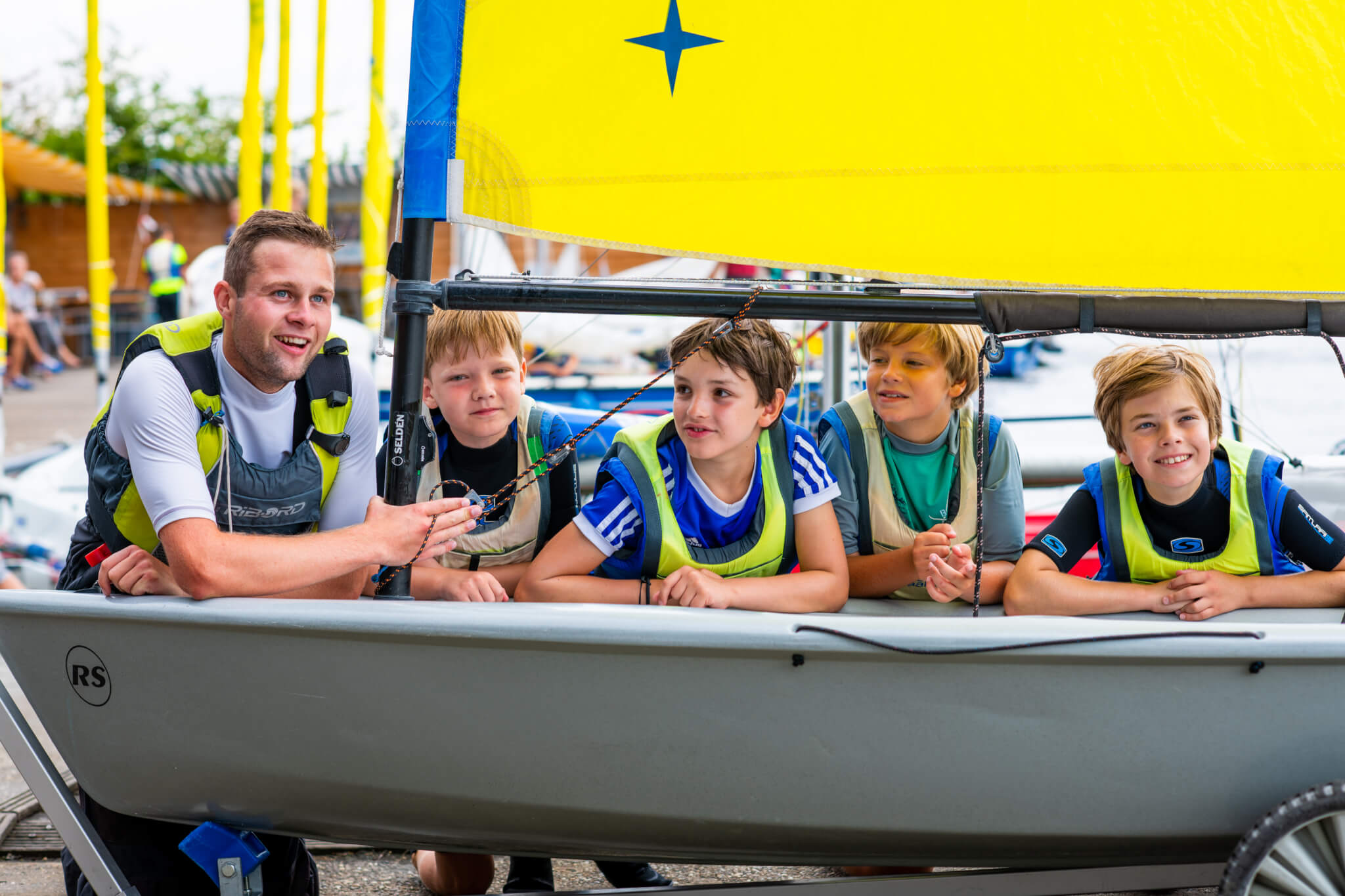 3. Swimming at the swimming jetties at the Westeinderplassen
The best places to dive in the water at the Westeinderplassen are the Kudelstaart swimming jetty and Surf Island.
Swimming Jetty Kudelstaart
Since 2001, there has been a recreation area in Kudelstaart with a swimming jetty to cool off in the water of the Westeinderplassen. Spectators can sit and relax on the convenient bench next to the swimming jetty Kudelstaart. This place also has toilet and shower facilities during the swimming season. There is no cafe or restaurant available.
Surf Island
When the weather is nice, Surf Island Aalsmeer is a must for anyone who wants to enjoy the Westeinderplassen in a sporty and relaxed way. Admire the view over the bay from your spot on the sand, grassy area or at the Westeinder Pavilion. Thanks to this location, the Surf Island provides a sheltered and clear environment where windsurfers and swimmers stay within sight. The sandy beach at Surf Island slopes gently into the water and is ideal for children.
4. Eel fishing on the Westeinderplassen
Fish on the Westeinderplassen with Visserij Rekelhof. This is the place to be for eel lovers. Not only to catch fresh eel, but also to smoke them and buy them on site. Vislust Aalsmeer is the starting point for everything to do with fishing in Aalsmeer; from obtaining fishing passes and permits online to fishing lessons and competitions.
For a complete fishing trip, you can go to the Westeinder Cruise. The professional fisherman, born and raised on the banks of the Westeinderplassen, tells tasty stories about the extinction of eel, the not so rare catfish and many other underwater creatures. A group fishing trip takes about two hours and ends with a gastronomical highlight.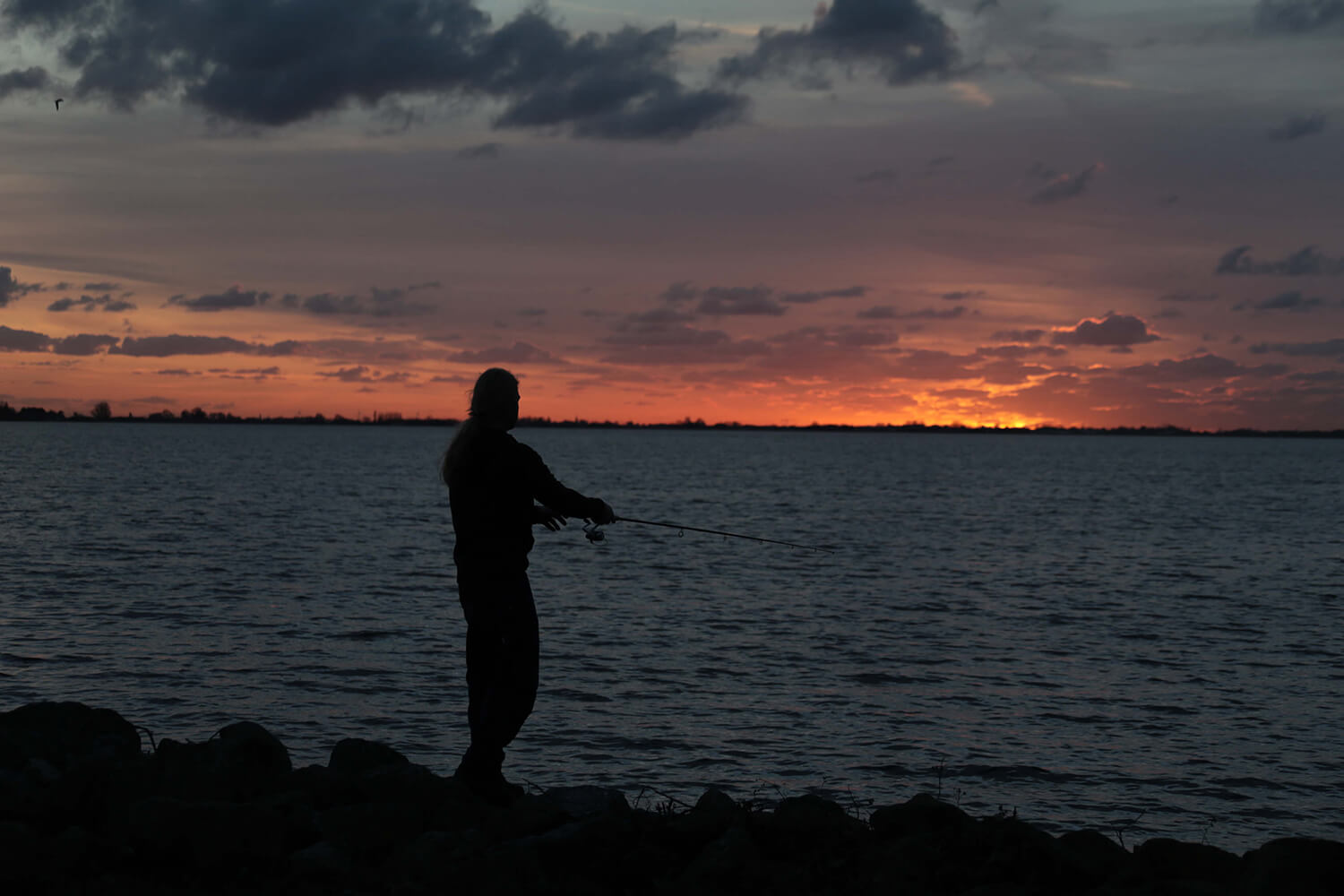 5. Water-skiing at Water-skiing Club Aalsmeer
Whether you want to learn a new water sport in Aalsmeer or are already advanced; water-skiing, wakeboarding and barefooting on the Westeinderplassen can be done at Water-skiing Club Aalsmeer (WSVA). Young and old, beginner and pro are welcome at WSVA, which is open every Wednesday evening – and on several Sundays – until sunset during the water-skiing season.
6. Sail across the Westeinderplassen in a sloop or canoe
Do you want to be delighted by nature? Renting a sloop or canoe – with or without skipper – is ideal for people who want to experience the peace and beauty of the Westeinderplassen in their own way. You can rent a boat or canoe at these addresses: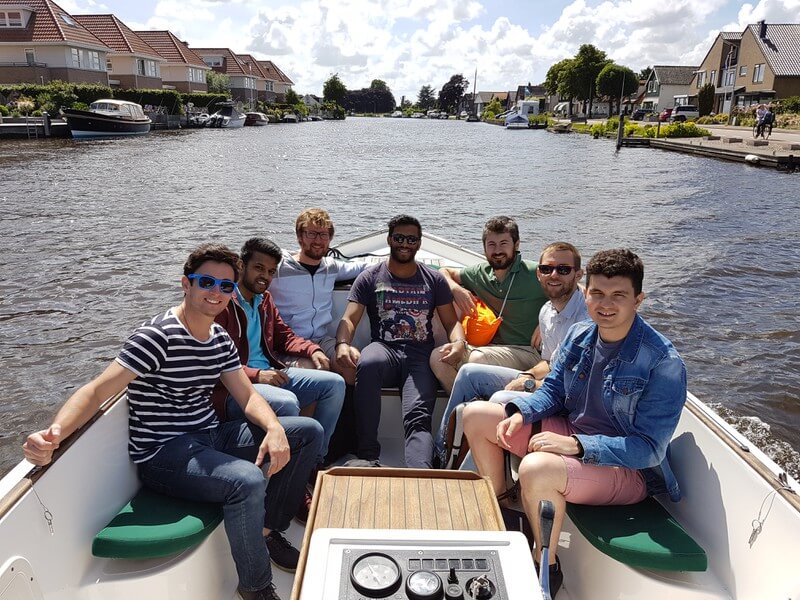 7. Sleeping on the water
Forget all your daily worries during the beautiful evenings at the Westeinderplassen and wake up to the soothing sounds of water birds. During a stay in the Kempers Watersport Aquacabins in Aalsmeer, you have an uninterrupted view from the harbour over the Westeinderplassen. The Aquacabin has two bedrooms, a bathroom, living and dining room and two terraces. You can also rent a boat and water sports equipment at Kempers Watersport in Aalsmeer.
8. Surfing on the Westeinderplassen
Windsurfing Club Aalsmeer is located on the Westeinderplassen. For decades this has been the hotspot for windsurfing lessons, on the Surf Island near the Watertoren. It is a top location for both beginners and advanced windsurfers.
9. Fort Kudelstaart Marina
Fort Kudelstaart Marina is a well-known, charming, family marina with beautiful moorings that offer a wonderful view over the water. Fort Kudelstaart is a national monument dating from 1906 and is part of the Defence Line of Amsterdam. It is a well-known base for numerous water sport activities in and around Aalsmeer.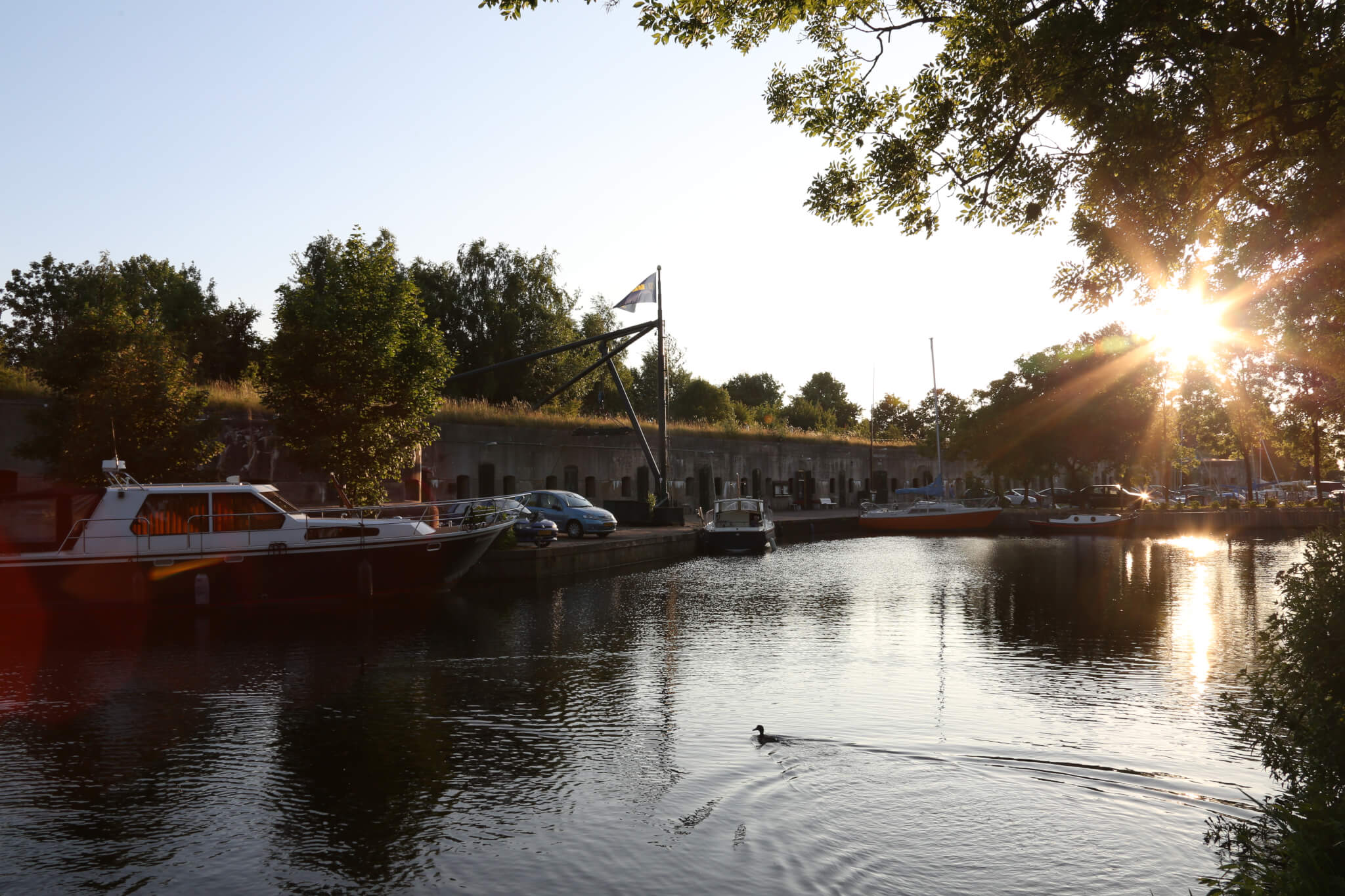 10. Not the Westeinderplassen, but….
Almost as beautiful and special as the Westeinderplassen is the polder area in Aalsmeer-Oost. This is more than just a sailing connection between Amsterdam and the Westeinderplassen. We recommend that you get to know this underrated area. You can do this in an original covered wooden boat called a pram with Aalsmeer Canal Cruise. Skipper Jan Koster takes you on a journey through the history of this surprising polder area like no other. Afterwards, you can have a great meal at restaurant ZAAI Kweek & Eet (only for groups & events)