"You find yourself gliding across the lake at a steady pace, no need to go any faster. Everything slows down around you as you gently sail across the water. Without even realising it you start to relax, especially when the sun is out." Sailing over the Westeinderplassen is not only Wilco's favourite activity, it's also his top tip when visiting Aalsmeer.
Wilco, twenty-eight years old and from Aalsmeer started his new venture in 2018 opening the doors to Turf Aalsmeer; The gold mining village of Gold Creek, a setting specifically designed for taking part in lifelike games which he created, designed and built himself. Wilco is often to be found in Aalsmeer either for Turf Aalsmeer reasons or for a visit to his parents and sisters. He himself has been living in Delft for a number of years, but the call of the water is one of the main reasons for him to return to Aalsmeer.
The Westeinderplassen islands
"Island watching! What are the people up to on the islands?" Zigzagging between the islands, Wilco and his friends from Delft often fantasize about what they would do with such an island. These hundreds of islands are the undiscovered secret of Aalsmeer. It's a completely different world, Wilco says with conviction. Whilst you're sailing over this beautiful Dutch lake you can see the trees, but you have no idea that they are all growing on extraordinary islands.
"Actually, it's just an elongated piece of land that's divided into compartments with little gullies in between."Wilco enthusiastically recommends this as a must-do trip, sailing through these waterways and discovering all the islands. "Whenever we bring people here who have never been before, they all think it's amazing." Staying with the water theme, Wilco also highly rates Surf island as a place to visit. "When the weather's nice, it gives a real Mediterranean vibe." A taste of summer on Aalsmeer's only beach.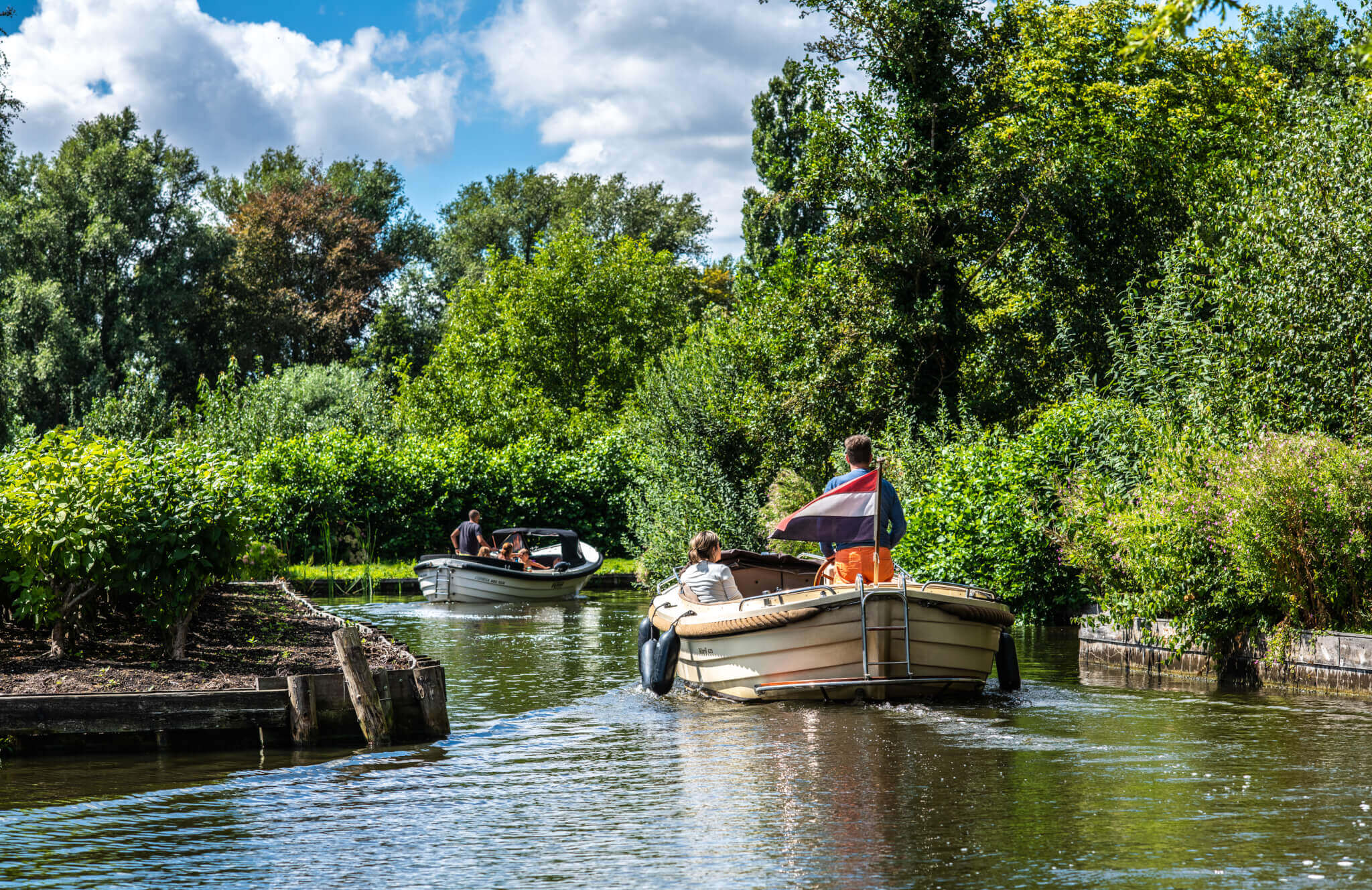 Events on the water
The passion and love Wilco has for the Westeinderplassen is also very apparent when he talks about the events, such as Fire and Light on the Water. He has taken part in this this illuminated boat show for at least eleven years. He arranges a boat for the evening so that he and his friends can admire the fireworks, the illuminated Water Tower and the other boats from the water.
Wilco also loves to watch the boats from the waters edge, and another favourite event is the Pramen Race, to be seen during Aalsmeer's annual Festival week. "The Pramen Race, it's great, you won't find anything like it anywhere else." According to him, the Festival Week itself is a quintessential Aalsmeer event. You get to see so many people on the move, it's great fun and always busy." Dutch pop-artists such as Jan Smit and Gerard Joling are not entirely his cup of tea, but they have been known to perform in the marquee on the Praamplein. "The whole of Aalsmeer comes alive and at the same time there is a lot going on in the village."