Where to enjoy the best coffee in Aalsmeer?
On the waterfront, in the charming village centre or with a view of the Aalsmeer's horticultural landscape: there are plenty of places where you can enjoy a nice cup of coffee. We're happy to advise you where you can find the best Aalsmeer coffee houses and cafes.
Tuinhuis
Before or after a visit to the Historical Garden, after shopping or just if you feel like having a good time in the village, you can enjoy a delicious coffee at the Tuinhuis. Inside the cosy interior or outside with the garden on the one side and on the water on the other. A coffee and a slice of cake, naughty but nice! The Tuinhuis has it all!
Café de Mijnen
Back in Aalsmeer you are afforded a real Aalsmeer view from the terrace. A view of greenhouses on all sides. Inside you will get a feel of Limburg's mining history. Café de Mijnen is part of the Boerma Institute and is open for coffee from Monday to Friday.
Ab Müller Patisserie
Believe us, you don't just go here for coffee. As soon as you spot all the pastries and cakes in the display case, it's almost impossible to say 'no' to all their delicious looking offerings! At Ab Müller Patisserie you can sit inside and admire all the delicious goodies or you can venture outside and sit on the terrace. Local treats, such as Aalsmeer's peat and sweets inspired by the Aalsmeer strawberry, are a popular choice.
De Oude Veiling
Until 1927, the Oude Veiling in Aalsmeer was called De Veiling (The Auction) and played a valuable part in the establishing of the largest flower auction in the world. Today this is referred to as the living room of Aalsmeer's flower village. A perfect place for a cup of coffee in Aalsmeer!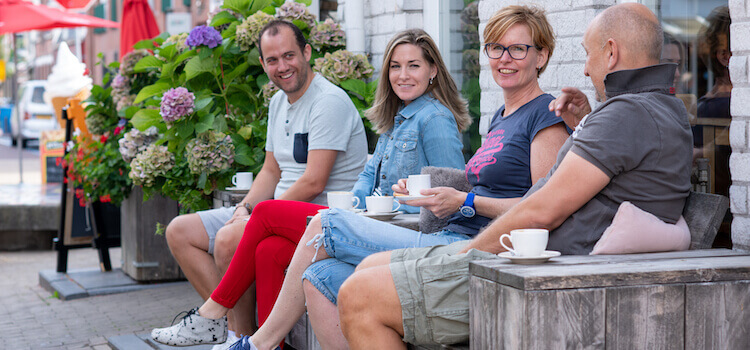 Bertram & Brood
You will also find a subsidiary of one of Amsterdam's favourite bakeries Bertram & Brood in the middle of Aalsmeer. From 08:00 hrs you can enjoy a cup of coffee whilst enjoying the smell of freshly baked bread. When the weather is nice, you can take a seat on the bench outside and watch the locals pass by.
Café Op de Hoek
Are you in Kudelstaart? Stop by for a coffee at the cafe on the corner Café Op de Hoek! The cosy and accessible café has quickly become a household name in Kudelstaart and is open six days a week and only closes on Mondays.