The traditional Dutch triple kiss greeting has been no laughing matter for Leontien for many years. Her sensitive skin became even more flushed and irritated. Until about ten years ago when her life changed during a holiday in America. "Goat milk soap should be good for you skin. I read this on a sign, and I thought, that's it: back to basics and back to traditional oil-based soap."  While Leontien wanted to meet the soap maker of this 'goat milk soap', her husband wasn't optimistic about her chances. "Have you any idea how big America is?"They continued on their road-trip and out of the blue they came upon a sign advertising the soap maker's enterprise. "It was fate."
Soap maker Leontien
Leontien is a local craftswoman. She is also an artist and a sculptor. She enjoyed her lifestyle and had no intention of becoming a soap maker. But, because of her skin complaints, she was always on the look-out for the right product which suited her needs. And she found it in America. "I had a really interesting conversation with that soap maker which led me to thinking that I could make it for myself. When I know for myself which ingredients I should add to my soap, I am then also aware which elements work well and those which don't provide the desired effect."
It turns out that, among other things, it's the ingredients in liquid soap which trigger people's irritable skin reactions. According to Leontien, the culprit is a cheap foaming agent that is also used for garage cleaners and detergent. Something none of us is aware of. Leontien's development of eczema was caused by these added ingredients.
"It took me a while to put together the right recipes and to make it work." When friends and acquaintances from the goat farm located in the Amsterdamse Bos, which also supplied her with goat's milk, proved to be so enthusiastic, Leontien took the next official steps on her way to becoming a certified soap maker. This included complying with cosmetics legislation, commodity law, lab inspections and ensuring that everything was correctly documented. Soap studio Uzepia became a reality!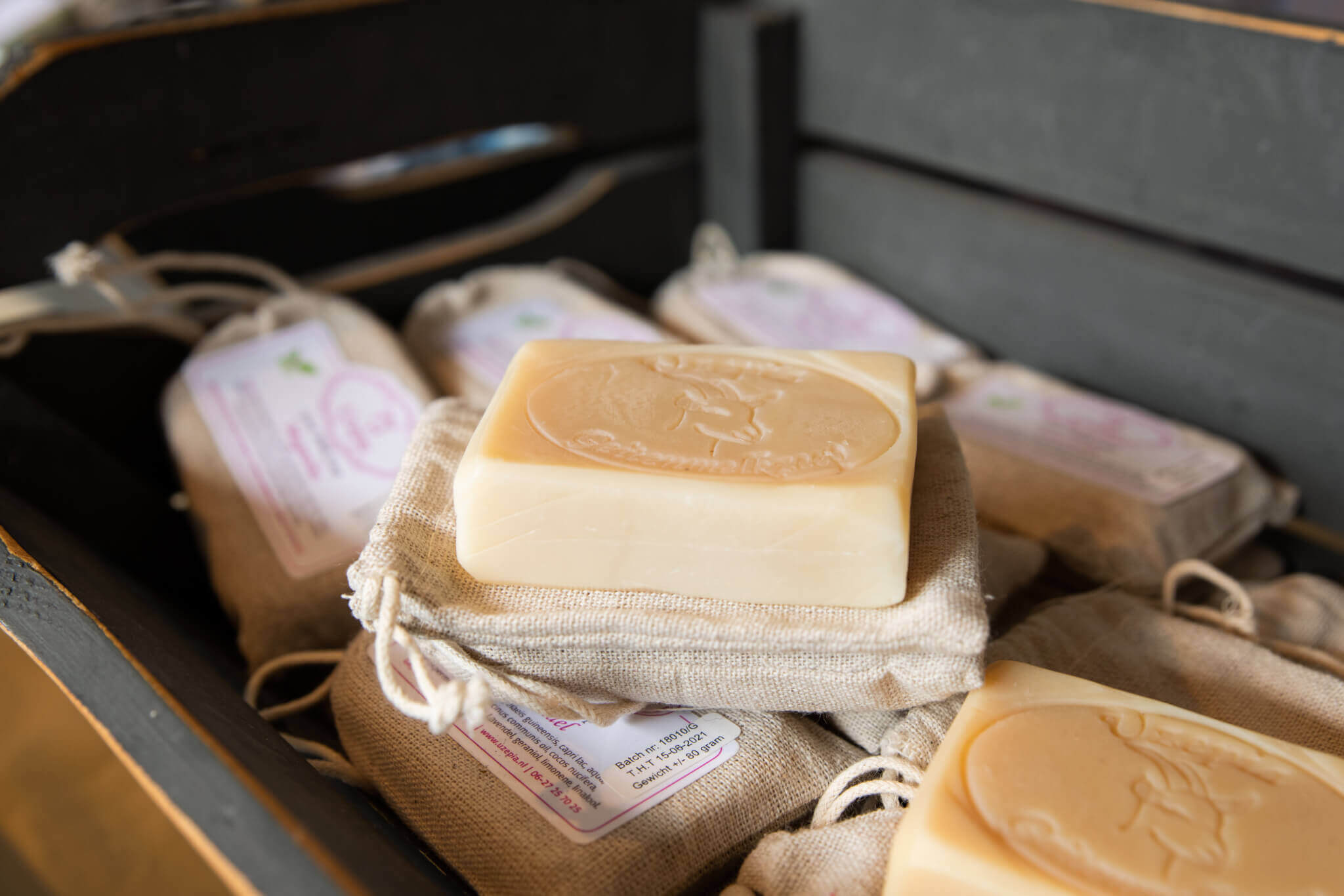 Process of soap making
The soap you'll find at Soap Studio Uzepia is personally hand-made by Leontien herself. This process takes up to four weeks. Ingredients, such as organic oils and goat's milk, are added together in a pan, and stirred until it thickens. She then pours out the soap and leaves it to rest on racks. After a week, the moulded soap is cut, peeled and stamped before returning it to the racks. "I enjoy the process of soap making," explains Leontien. Love of her craft! Leontien invites you to her studio to tell even more about it!
Leontien has also added a soothing skin cream to her range of products. "The goat farmer from the Amsterdamse Bos suggested I should develop a cream using goat's whey and goat's butter." Goat's whey consists of the remnants from the cheese making and is often used by eczema sufferers. It has the effect of reducing redness and irritation of the skin. Leontien went in search of substances which have skin soothing qualities and found ingredients such as aloe vera, liquorice, carrot, chamomile, calendula and oat extracts. All the ingredients are mixed with the goat butter and goat whey. This is carried out in a special bio lab, where Leontien's recipe is transformed into a skin cream.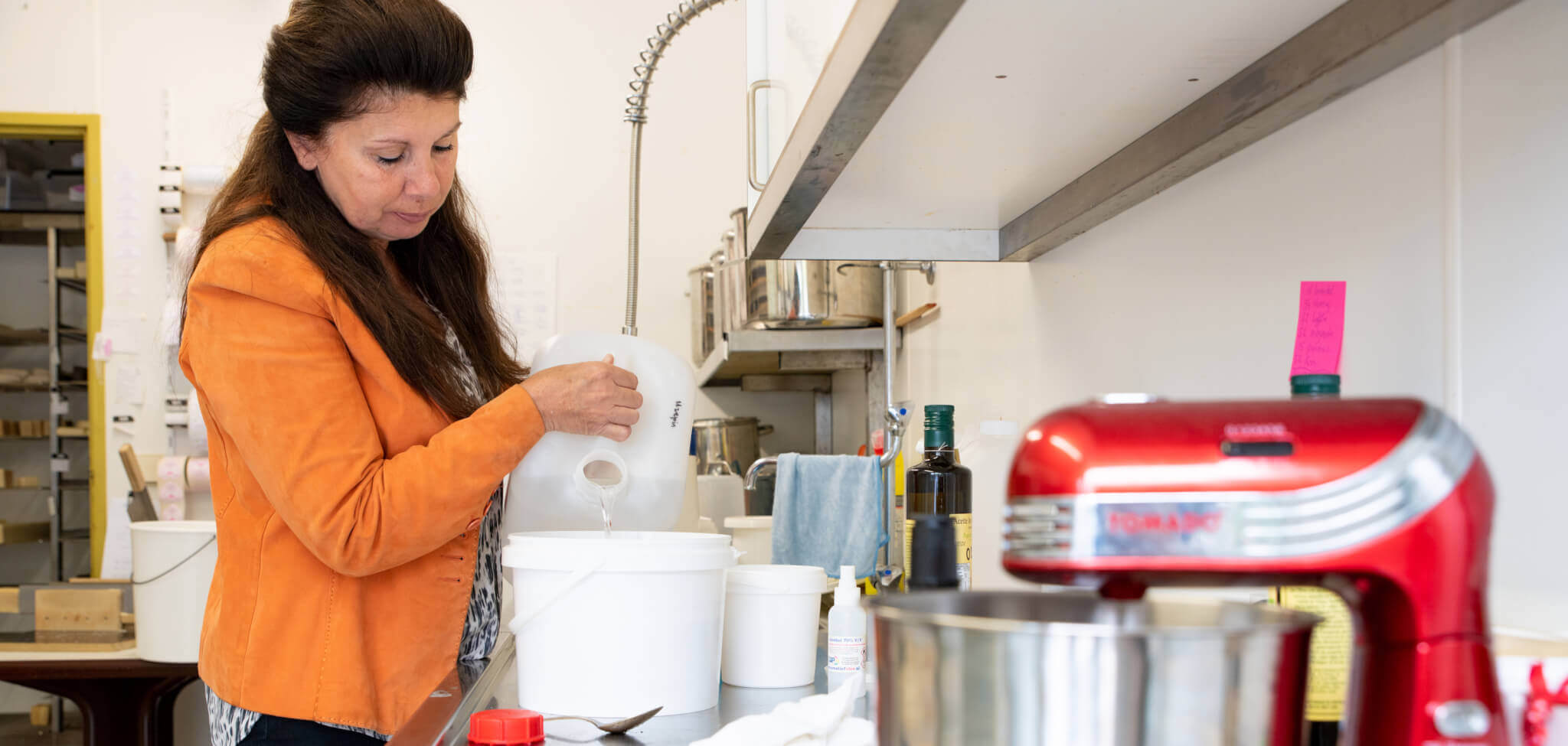 New era using local craft products
"This is the era when people are becoming more and more aware of what they're buying. The first chemical factories were established sixty years ago and I'm 58 years old now, so we're the first generation to use chemical-rich soaps from birth." Leontien feels that due to our own ignorance of scientific processes we often unknowingly cause damage to our own skin and that this is also passed on to children. "Everything had to be big, bigger, biggest." But this new era also means that we increasingly appreciate small businesses, observes Leontien. You feel more personally connected to the local craftsman who provides the impression of an honest day's work and a reliable, well-made product.
You will find many small entrepreneurs in Aalsmeer and Kudelstaart. For example, next-door to the soap studio Uzepia, you will find Theo Rekelhof, a local eel fisherman and further down the road, the mill in the village where you can observe how flour is milled. According to Leontien, these are very interesting places to visit. "Fantastic. It's very small and charming, a chance to walk in and hear the many enthusiastic anecdotes."