Flyboarding: water sports in Aalsmeer
The flyboard is connected to a water scooter by a long and flexible tube. Your feet are fixed to the flyboard in bindings and the water scooter propels the flyboard. The water scooter follows the flyboarder, and not the other way around, like with water-skiing or wakeboarding. The trick is to perform beautiful manoeuvres using small foot movements. A smooth dive in the water, elegant pirouettes and spectacular somersaults far above the water. And all without any risk of injury.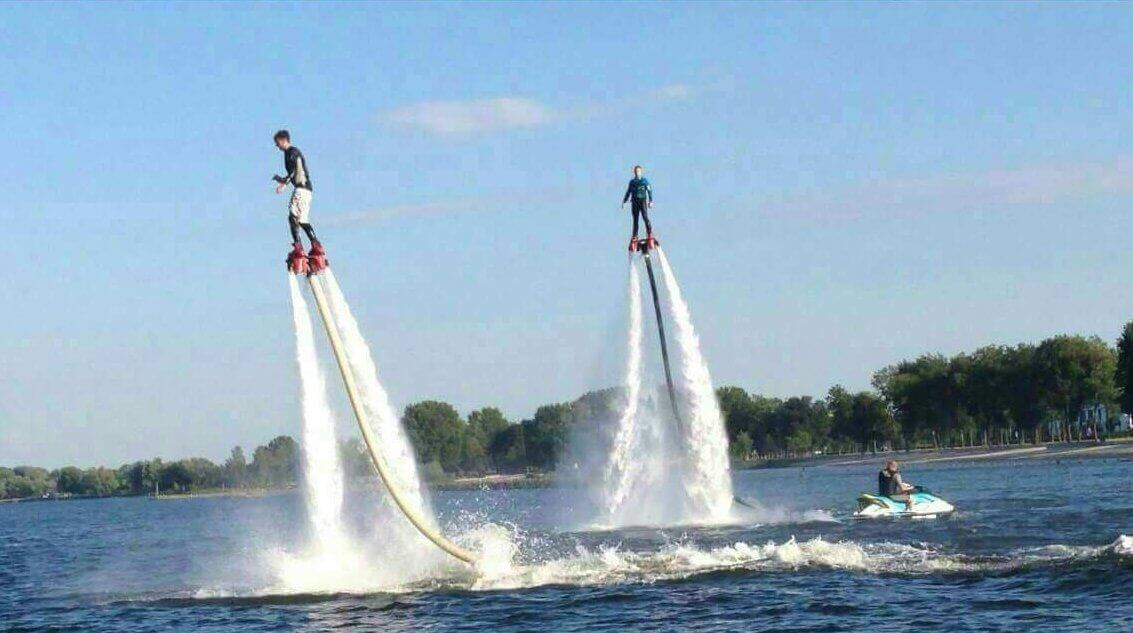 Flyboard Sensation in Aalsmeer
Flyboard Sensation in Aalsmeer uses two-person flyboards: the instructor is on the water scooter and you are on the flyboard. This is the easiest way to learn and gives you lots of freedom of movement, simply by moving your feet. After some training out of the water, the instructors help you to take your first steps in flyboarding.
Thanks to the low level of difficulty, flyboarding is perfectly suited to an original and sporty outing with friends or colleagues. Would you rather leave the flyboarding to the pros and sit back and enjoy this thrilling spectacle? Flyboard Sensation also hosts flyboarding shows and demonstrations. So, take a seat on the edge of the Westeinderplassen to watch this water sport in Aalsmeer.