De Bezwooren Kerf may be one of over seven hundred breweries found in the Netherlands, but it is certainly not your run of the mill Dutch brewery. They distinguish themselves by focusing on quality and professionalism. Moreover, the style of their BUCK Beer can be recognised by a lower alcohol content which is 1.5 to 2 percent lighter than you would expect from this type of beer.
From the swimming pool to the De Bezwooren Kerf brewery
It all started about 20 years ago in the pool in Aalsmeer. Or rather in the pool bar. Brothers-in-law Paul and Peter enjoyed swimming together every week and always rounded off the visit to the pool with a chat and a pint. The bar tender was a special beer enthusiast and the guys were keen tasters. That's how they developed their favourite flavours and began to wonder, "How do you make craft beer and how does that process work?
Purchasing a home beer brewing starter kit was the first step towards developing and producing their own BUCK Beer. This was succeeded by a four-day course in Hoofddorp, where they brewed their own Oyster Stout which included real oysters in the ingredients! As Paul himself explains, that was the moment when they overcame their 'cold feet'. They started with the purchase of two 75 litre boilers, followed shortly by several larger boilers. This was the point they realized that they'd actually set up their own microbrewery allowing them to brew their own Dutch craft beer. Nowadays the guys brew approximately 5,000 litres of beer annually and continue to experiment by combining beer with spirits such as gin, whisky, rum, limoncello, pastis and absinthe.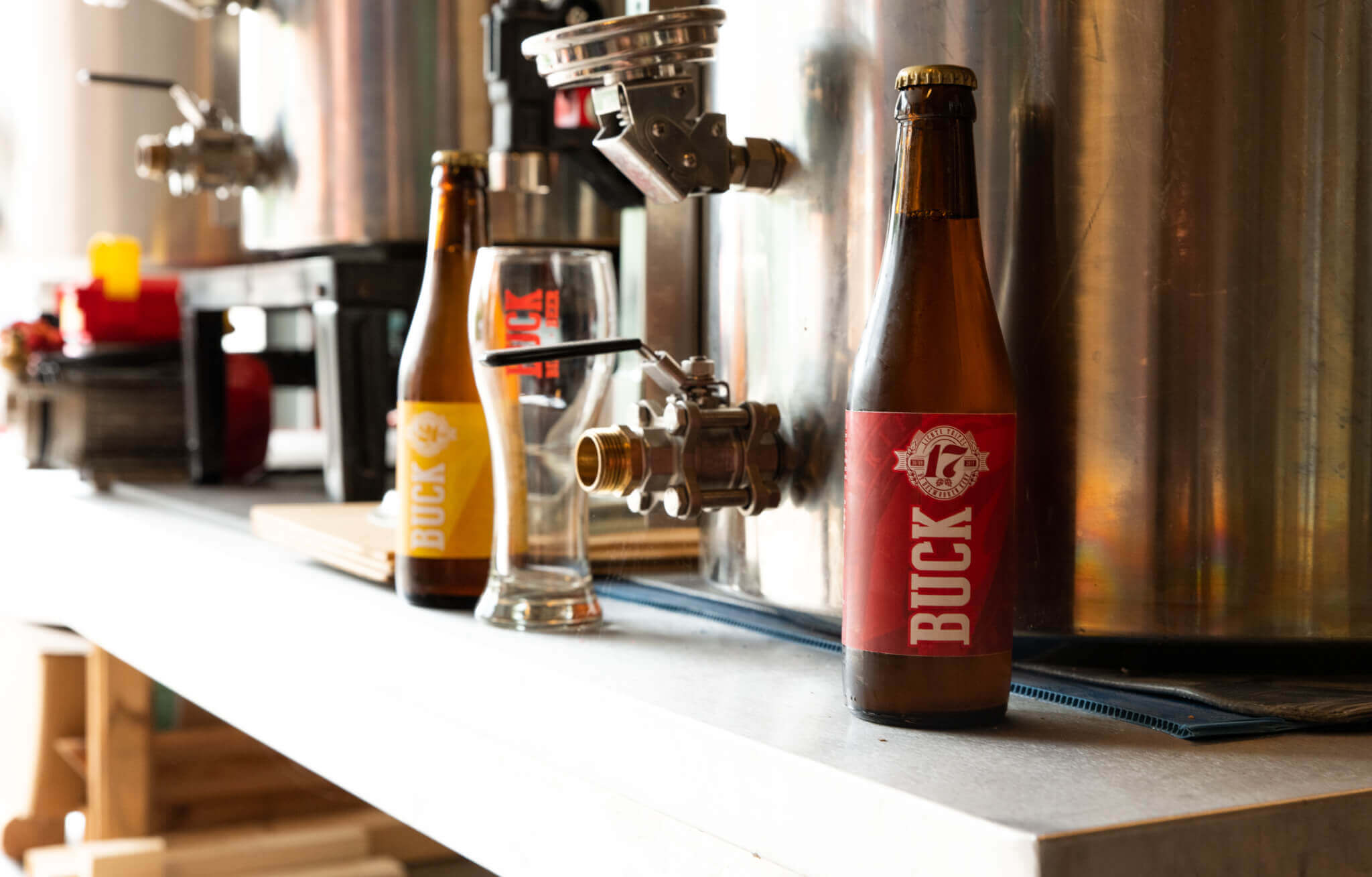 BUCK Beer: what and where?
In January 2017 the De Bezwooren Kerf brewery was officially established and in September 2017 Paul and Peter entered the market with their very first beer: a light triple. Several local craft beers followed, including a light blond, light quadruple, light weizen, dark-IPA and double-bock. The quadruple is considered to be a winter beer and the double-bock is brewed for the bock season in September and October.
Fancy a BUCK Beer? The Dutch craft beers from the De Bezwooren Kerf brewery are available at three off-licenses and a number of catering establishments in Aalsmeer:
Wittebol Wijn Slijterij (off-license) on the Ophelialaan
Slijterij Mitra van Schaik on the Raadhuisplein
Gall & Gall off-license located in Kudelstaart shopping centre.
Argentino Grill Restaurant on the Marktstraat
Schockman Hydrangea nursery on the Hoofdweg in Kudelstaart
Beer festivals and events
Like and follow the De Bezwooren Kerf brewery on Facebook…which provides details of all local events. This local brewery always announces which beer festival or other event they will be attending a week in advance . They are easily recognisable as they operate from a bright red stand with a large three metre beer bottle on the top.