Flower Art Museum Aalsmeer
From October 17,  there are new exhibitions in the Flower Art Museum. They all have their own character and story to tell. We are happy to take you into this wonderful world of flowers.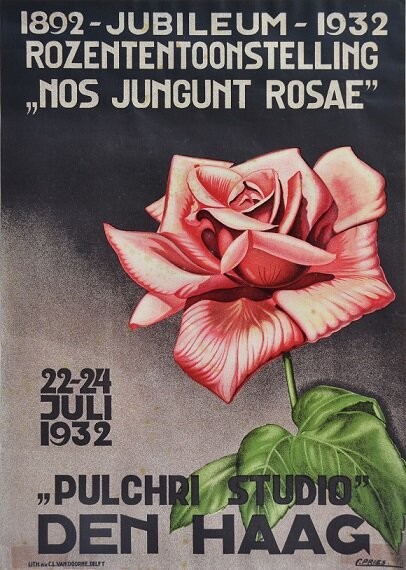 Csizik-collection
In this exhibition, the Flower Art Museum gives an impression of the Csizik collection. This unique collection of historical posters of flower exhibitions has been brought together by horticultural A.P. Csizik. Earlier this year, the Flower Council of Holland donated the collection to the Flower Art Museum. These posters can be admired by everyone from 17 October 2020. The posters form a real treasure trove. This treasury is a representation of the flowery past of the Netherlands, the promotion of this sector and the creative imagination of artists. A must visit, not only because of the colourful posters but also because of the beautiful stories they bring with them. 50 posters will be shown during the exhibition. The Flower Art Museum also provides background information and a piece of history for a number of works and themes.
The earth smiles in flowers
In this exhibition, you will be introduced to work by Eelco Brand, Martin Groen, Katinka van Haren, Nikkie le Nobel and Mireille Schermer. The name of the exhibition "Earth laughs in flowers," is a famous phrase from a poem by Ralph Waldo Emerson (1803-1882). He believed that people should appreciate nature more. In the poem, Emerson gives the Earth a voice. The earth laughs at the person who thinks he owns the earth and can bend it to its will, but who in the end always won't win.
The corona crisis tough for many people, but it has shown us a few valuable things. For example, nature revives when people take a step back. The air became cleaner, peace returned and flora and fauna ventured into urban places. The Flower Art Museum selected five artists who, each in their own way, give space to nature in their work. This has led to a thriving and surprising world full of beauty that can be admired in the museum from 17 October.